Control technology panel construction
Unitronics is a remarkable producer in the automation market with their operator panel and programmable logic controllers OPLC. All the models that they put on the market are very innovative and always different from existing PLC types of other producers who always show a lot of similarities. For example, the PLC / CPU and HMI are always integrated into one module. Your touchscreen or keypad is also directly onto your CPU, which saves a lot of space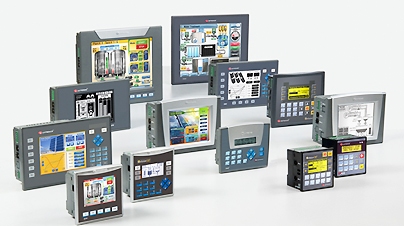 because your CPU is also included in the cabinet door or control panel. Unitronics sometimes seems to have a better connection with both the programmer and the end user and therefore you can see that a lot of times many functionalities of Unitronics are later being used by other brands of PLCs.
There is a wide range of PLCs and i/o models available so you will always find something for every application or branche like the: packaging industry, OEM, food beverage and bakery, Energy Management, Climate control, Petrochemicals, Water Heaters & Ovens, plastic and textile processing and many other places where an automated process is required, a Vision PLCS model that exactly fits with the needs of the process.
There are endless possibilities:
Special Features: Up to 24 Flexible auto tune PID systems, data tables management Recipes management, time and date controlled functions, encoder inputs and PWM outputs, remote and snap on I/O, IP 65 & 66, E-mail and sending SMS, and even the possibility of using the log functions on a SD card. They can also be used as a web server so that with your web browser (phone or tablet PC) you will have the possibility to check the status of your installation.
Gevanceerde Communication options: Ethernet, Profibus, CAN bus, Unican, CANopen, J1939, SNMP, RS232, RS485, RS422, mobile GSM / SMS, GPRS, Remote Access, MODBUS, OPC & DDE Server. Also you can directly log and control from Microsoft Excel with DataXport. If you way of communication is not mentioned here, it's no problem because it is even possible to process your own protocol in the PLC.
All models can be mounted into the control cabinet door, but most models also have a DIN rail connector which makes it easy to assemble them to the mounting plate in case that the application should not be accessible to the operator.
Univision licensing: To disable certain functionalities of the PLC program.
Remote Operator: Operate and / or monitor your OPLC's remotely via your PC.
DataXport: Log all the variables of the PLC directly on your PC in an Excel file.
SD Card suite: Analyze all your data that is logged in the PLC.
UniOPC: Unitronics OPC Server makes it possible to communicate with other programs or equipment by OPC, such as SCADA programs.
UniDDE: Unitronics Dynamic Data Exchange allows you to exchange data with applications or programs that support DDE such as Excel.
Are you looking for a suitable PLC for your application and/or a programmer who needs to program your application? Please contact Eyemation. Jouke Wijdoogen is a certified programmer and engineer who can deliver the right PLC and, if necessary, the right controlpanel for your automation.
Another great advantage of the Unitronics models is that they are very affordable and many applications are supplied free of charge and can be downloaded from the Unitronics website. Such as the complete Programming U90 Ladder and Visilogic packages so that you can program any necessary adjustments yourself after this.
Also think about the Download manager: for remote or local download of the PLC program without programming capabilities.